54 Blackberry Drive, Jewett, NY 5 Bedrooms, 5.5 Baths. 8,000 Sq. Ft.
Nestled on 42.6 acres of impeccable grounds, this estate is a marriage of harmonious design, master craftsmanship, natural materials and intelligent-home technology. A Zen masterpiece, with views of Hunter mountain, landscaped gardens, and a radiant-heated driveway exude elegance. The pièce de résistance is the indoor spa. It features a 50-foot, 50,000 gallon, 10-foot depth, automatic covering, chlorine-free pool, waterfall, diving board and hot-tub, in a humidity controlled environment. 15 radiant heating zones make this home comfortable year round. A bright, ergonomic, attractive kitchen, adorned with top-of-the-line stainless-steel appliances, is located at the heart of the home. A vibrant flow of Chi guides you into peaceful, well-balanced bedrooms, each with its own conveniently-located bathroom. Sunlight floods into the strategically-placed windows, amplifying the visual-synergy of the manicured-exterior and the attractive geometries of the interior living-spaces.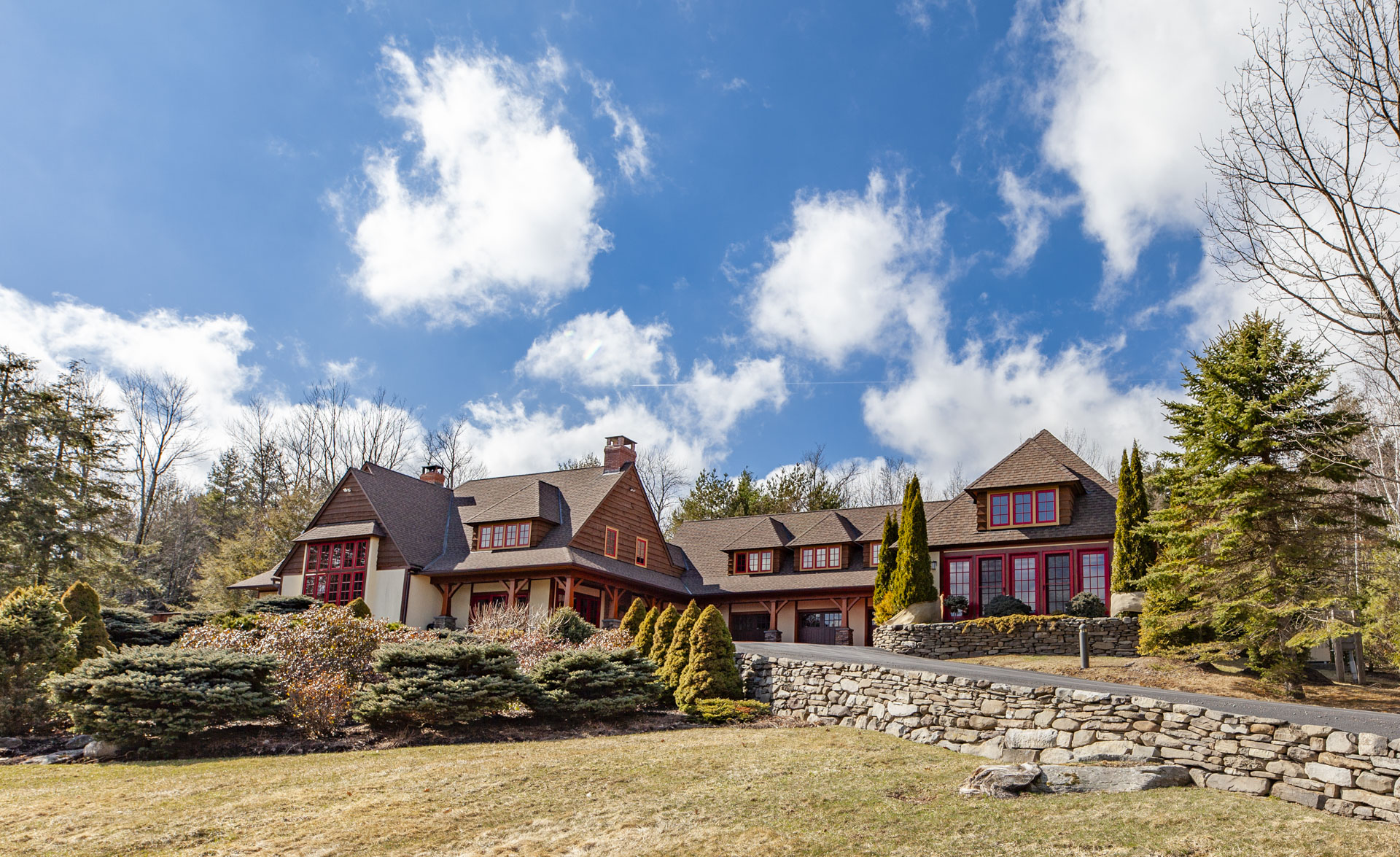 Gallery
Click on any image below to view the picture at a larger size. The slideshow will automatically begin playing. Sit back and enjoy the Showcase.
If you wish to manually advance the picture please use the arrows located at the top or bottom of the page to shuttle through photographs.
Alternatively, while in 'single-picture' mode, you may shuttle through the stack of thumbnails on the right-hand side.
Top Left Controls (in 'single-picture' mode):  [1] To exit – select the 'X' icon. [2] To view full-screen slideshow (recommended), select the 'rectangle' icon. [3] To play/pause slideshow, select the 'play arrow' or 'pause' icon.
360 Virtual Tour
The image to the left, is a 360 degree Virtual Tour.
Please click on the image and drag your mouse around to view the room. Scroll up and down, left and right. Scrolling the image allows you to explore the home! Take your time to look around –  at the ceilings, the floors and everywhere in between. Clicking on the black-colored upward facing arrows, will enable you to jump to that location and view another perspective of the home.
'Before' & 'After'
These before and after examples illustrate the difference and impact that home magazine-quality photographs can achieve. We will produce perfect images for you, that can professionally showcase and ultimately help sell your home. To note: The pictures on the left of the comparisons, depict photos taken without professional photography. Our team of specialists utilize the latest bespoke technology and equipment to capture your home at its perfect moment.
Press on arrow and drag to the left or right to reveal the difference.